[Free !? Cheap!] Transcription of audio files! The topic transcription service is dangerous now
Aug. 2, 2021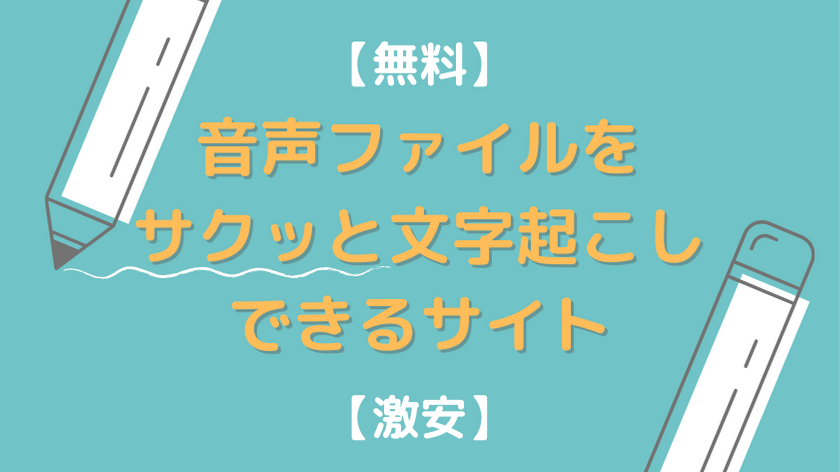 If you search the internet for transcription, you will find various services and companies that transcribe and transcribe.
From price pins to drills.
But to be honest
What cheap
I quickly
Transcription accuracy is good
Easy to use as a service
It is good that the support is also solid
That is the real intention.
I wish there was such a service ...
There is a transcription service that I would like to recommend to you, so I will introduce it this time!
Free transcription service
It can be used for free. Transcription service at a super-discount price even outside the free range.
Its name is [ Mr. Transcription ] .
Mr. Transcription
5 minutes every month
10 images every month
It is a service that allows you to transcribe from.
If you want to use it a little every month, you can use it for free!
If you want to use more, you can increase the usable range by charging.
The paid plans are as follows.
Transcription's paid plan price list
Basic plan : 1000 yen / month Audio 4 hours / month 500 images / month
Value plan : 2000 yen / month Audio 10 hours / month 1200 images / month
Premium plan : 3000 yen / month Audio 20 hours / month 3000 images / month
Amazing pricing compared to other services and companies.
It's so cheap and okay! ?? I'm surprised.
If you are using it and reach the upper limit, you can increase the usable time and images by canceling → re-contracting even in the middle of the month.
If you use it hard at work, the premium plan seems to be good.
How to use Mr. Transcription
Transcription is very easy to use.
Visit Mr. Transcription 's site
Select the language of the audio file
Upload audio file
Click the transcription button
You can transcribe with just this.
The transcribed characters are displayed in the text box.
You can also edit the text box.
You can also save the edited contents with the save button.
You can use the copy button to quickly copy the entire text in the text box.
If you register as a free member, you can check the transcribed content (edited content) from the history even afterwards.
Transcription's supported languages
The languages that Mr. Transcription can transcribe and transcribe
It has become.
In the future, the number of supported languages will increase, and eventually we plan to support a wide variety of languages such as Korean, Chinese, Spanish, German, and French.
Transcription in foreign languages may not be supported by some companies, so if you can transcribe in so many different languages, Mr. Transcription will be a must-have!
Why is Transcription so cheap?
Transcription is surprisingly cheap compared to other companies' services.
"But why is it so cheap?"

"Isn't it suspicious that some information is taken?"
If it's too cheap, you're worried about security and privacy.
But don't worry.
Mr. Transcription is a suspicious site, so it is not cheap, but it is a super-discount price realized by corporate efforts.
Mr. Transcription is actually transcribed by AI.
By transcribing AI, people do not have to listen to audio files one by one, so labor costs are kept as low as possible and this price is achieved.
The audio file has a function that can be automatically deleted after a certain period of storage, or the data can be deleted from the server by the user himself.
Transcription is planning to implement various useful functions in the future.
It's sure to be the best transcription site for you!
You can use it for free, so please try using Mr. Transcription.
■ AI transcription service "Mr. Transscription"
"Mr. Transcription" is an online transcription tool that can be used from zero initial cost and 1,000 yen per month (* free version available).
Supports more than 20 file formats such as audio, video, and images
Can be used from both PC and smartphone
Supports about 30 languages including Japanese, English, and Chinese
Supports technical terms such as medical care, IT, and long-term care
There is a customized dictionary function
To use it, just upload the audio file from the site. Transcription text is available in seconds to tens of minutes.
You can use it for free if you transcribe it for up to 10 minutes, so please try it once.

It is "Mr. Transcription" who can easily transcribe from audio, video, and images. Transcription allows you to transcribe for up to 10 minutes for free. You can copy, download, search, delete, etc. the transcribed text. You can also create subtitle files, which is ideal for transcription of interview videos.
|
Related article

Transcription for audio / video / image transcription. It is a transcription service that anyone can use for free without installation.