Free available: 10 recommended voice transcription tools [AI/Web/App]
Sept. 2, 2022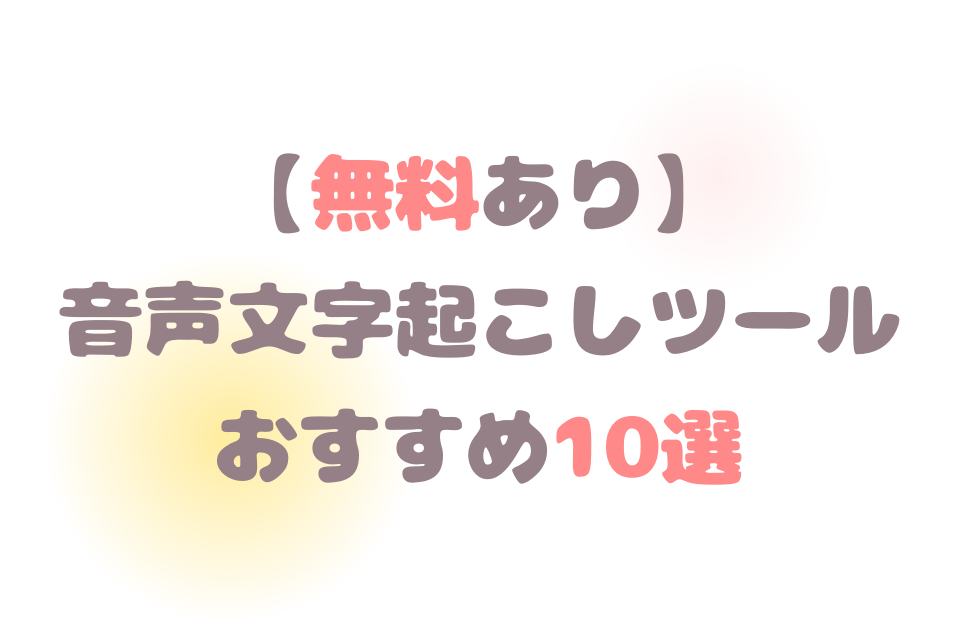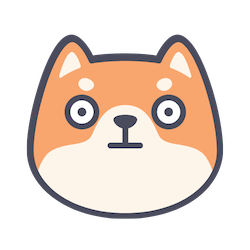 Want to speedily transcribe meeting minutes and interviews?
Don't you have such a problem?
Not so long ago, it was commonplace to transcribe all these meetings and conversations manually.
With the spread of personal computers, playback players and editors dedicated to transcription have appeared, but the effect is only partial reduction of labor. In the end, there was no choice but to do the transcription itself, one by one, manually.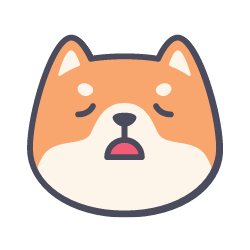 There were several agencies, but there weren't many that small and medium-sized companies and individuals could easily ask.
But times have changed.
Transcription tools that anyone can easily use are now being created one after another, and they are steadily stealing our jobs (in a good way).
This time, among such convenient voice transcription software services , we will introduce 10 particularly recommended tools.
We also explain in detail how to choose the best tool for your purpose and usage scene, so if you read this article, your work will be overwhelmingly easier compared to 100% manual work like before. Please take a look to the end.
[Free available] 10 recommended voice transcription software services
Texter (iPhone)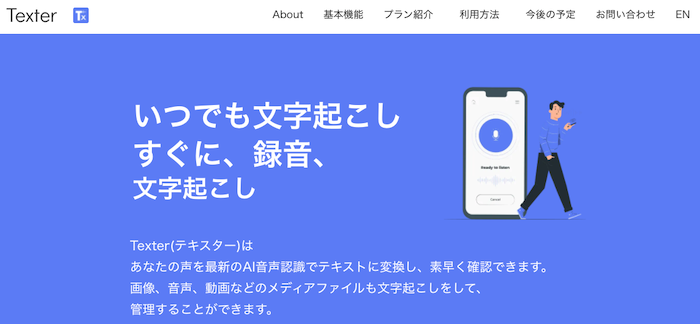 Here is a smartphone app that strikes a good balance between ease of use and functionality.
It also supports conversion to punctuation marks and question marks, and the accuracy is reasonably high. It's free for short transcriptions , so it's perfect for voice memo apps.
Fully compatible with iPad and Apple Watch. You can view the text on the wide screen of your iPad, or easily record and play back on your Apple Watch.
* It seems that the Android version was also distributed before, but now it is only the iOS app. For Android users, we recommend "Notta", which will be introduced later.
Supported formats: Real-time/Audio file import
What you can do for free: real-time 1 minute, short-time audio data transcription, etc.
Edivoice (Android)

Here's a voice input app for Android. Google's standard keyboard can also be used for voice input, but this one gives the impression of being more sophisticated.
In particular, it is convenient that you can insert punctuation marks, symbols, line breaks, etc. with one tap while converting voice to text in real time. Symbol insertion can also be performed by voice only.
You can import the created text data directly into the text input area of other apps (mushroom/clipboard), so you can divide the work by using the editor you always use for detailed editing.
Supported format: Real time
What you can do for free: Everything (* Ads displayed)
Notta (iPhone/Android/Web)
Voice transcription app for both iPhone and Android. There is also a web version, so you can use it from your computer.
The main feature of this app is the abundance of translation languages (104 languages) . It also has functions such as cueing by marking and real-time sharing, so it is also excellent as a simple transcription tool.
If you use the dedicated smartphone microphone "Langogo Mini", you will be able to transcribe even more clearly and accurately. If you feel unsatisfactory with the built-in microphone, why not give it a try?
Supported formats: Real-time/Audio file import
What you can do for free: Real-time transcription only, 120 minutes/month, 104 language translation, synchronization function, etc.
AutoMemo (iPhone/Android/Web)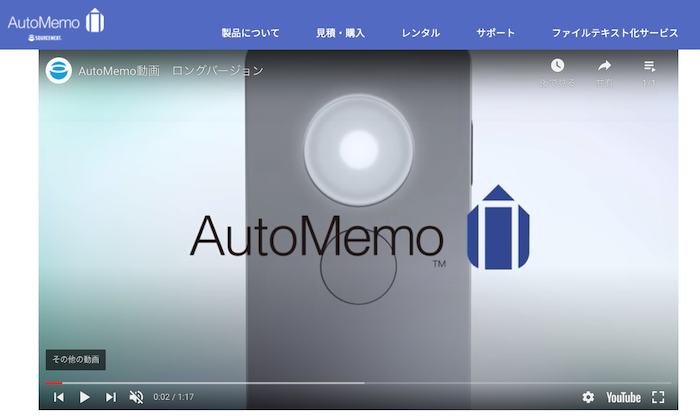 Here is the audio file text conversion service by Sourcenext, which is famous for Poketalk.
By purchasing a dedicated IC recorder, it is possible to transcribe up to one hour a month for free .
The operation of the IC recorder is very easy, just press the record button. Audio files are automatically uploaded, automatically converted on the cloud, and both text data and audio can be checked with the app (email reception is also possible).
You can also record and transcribe web conferences by connecting an audio cable to your computer. The range of applications seems to be surprisingly wide.
Supported format: Audio file import
What you can do for free: Cloud voice-to-text conversion (1 hour/month) *Purchase of an IC recorder is required
Coelabo (Web)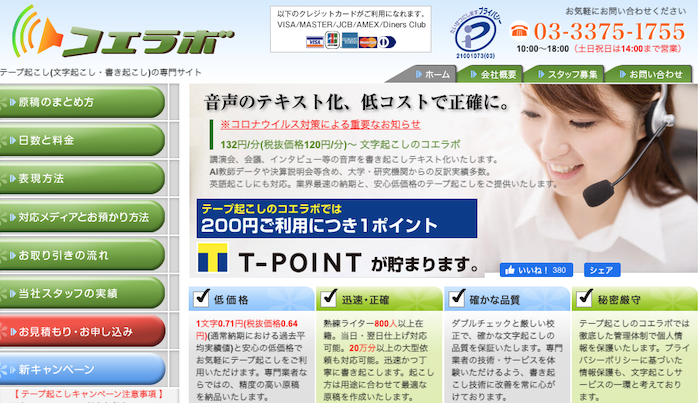 Here is a site that looks like a modern version of an old-fashioned human-powered transcription service.
While the price is reasonable at 132 yen/minute , it is characterized by the high quality of thorough double-checking and proofreading. Privacy certification has also been acquired, so there is no problem in terms of safety.
The express plan allows delivery within one day. In addition, if you pay a fee, you can also deliver on the same day or the next day, so it seems to be useful when you need text data immediately.
Supported format: Audio file import
What you can do for free: None (* It is possible to make it virtually free with an introduction campaign)
VoiceRep Pro (Windows)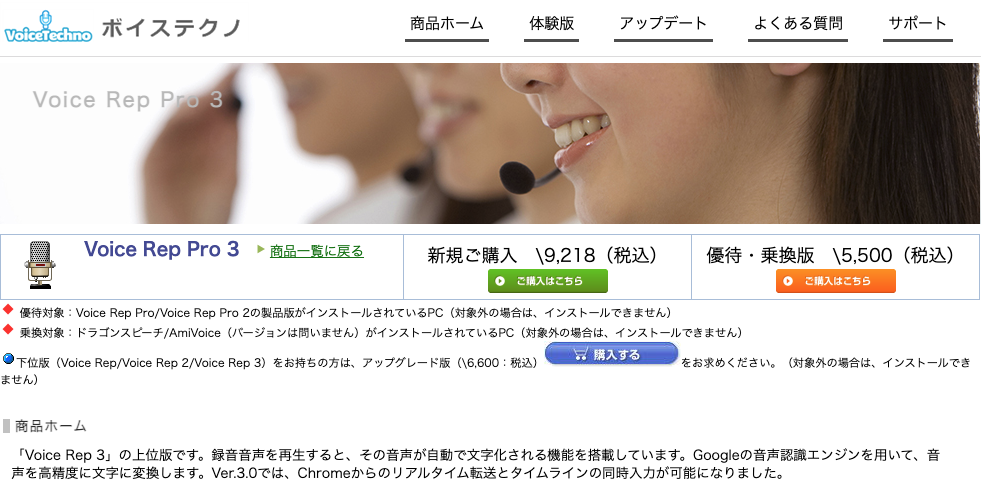 Nowadays, it is one of the few installation type transcription software for Windows.
This tool is a set of a speech recognition service (Google) via the Internet and a transcription editor. The editor itself works offline, so you can easily use it on the go.
Features such as automatic timestamp insertion, 10 language translations, and grammar proofing tools are also perfect. It's perfect for those who like to combine automatic transcription with manual work .
Supported formats: Real-time/Audio file import
What you can do for free: None (*There is a 3-minute trial version)
User Local Audio Transcript System (Web)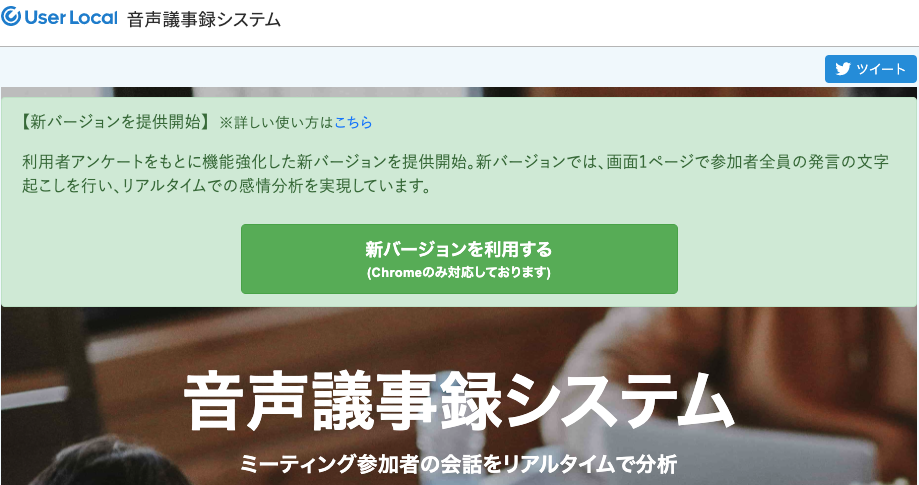 Click here for a free audio recording system that can be used from a browser (Google Chrome).
All you have to do is share the URL for the meeting with the members . Participants' remarks are automatically transcribed, and you can also correct your own remarks.
The transcribed minutes can be downloaded as a csv file.
Interestingly, it automatically extracts topic words from all participants' comments, and analyzes the speaker's emotions into two types: positive/negative and five emotions (joy, love, sadness, fear, and anger). The point with tools. It may be useful to analyze the minutes later.
Supported format: Real time
What you can do for free: Everything
Audio Transcript System (Free) - User Local
Otter (iPhone/Android/Web)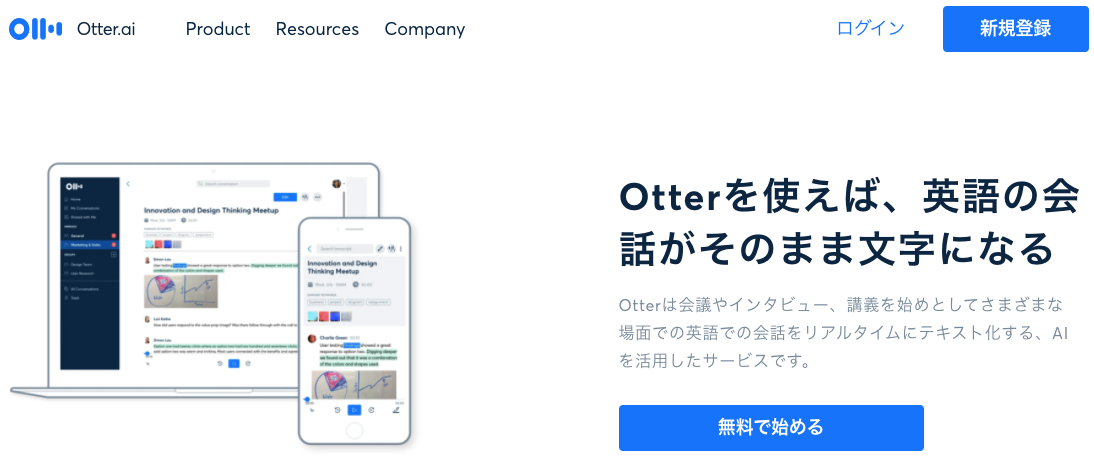 Here is an online transcription service that specializes in English.
A major feature is the ability to automatically identify multiple speakers . Furthermore, during audio playback, the part being read aloud is highlighted, which is useful for checking parts that could not be heard in real time.
It also has a real-time sync function. If you log in with the same account, you can check the text on your computer while recording on your smartphone, so it seems to be useful for creating meeting minutes.
Supported formats: Real-time/Audio file import
What you can do for free: 600 minutes/month
AmiVoice Cloud Platform (API)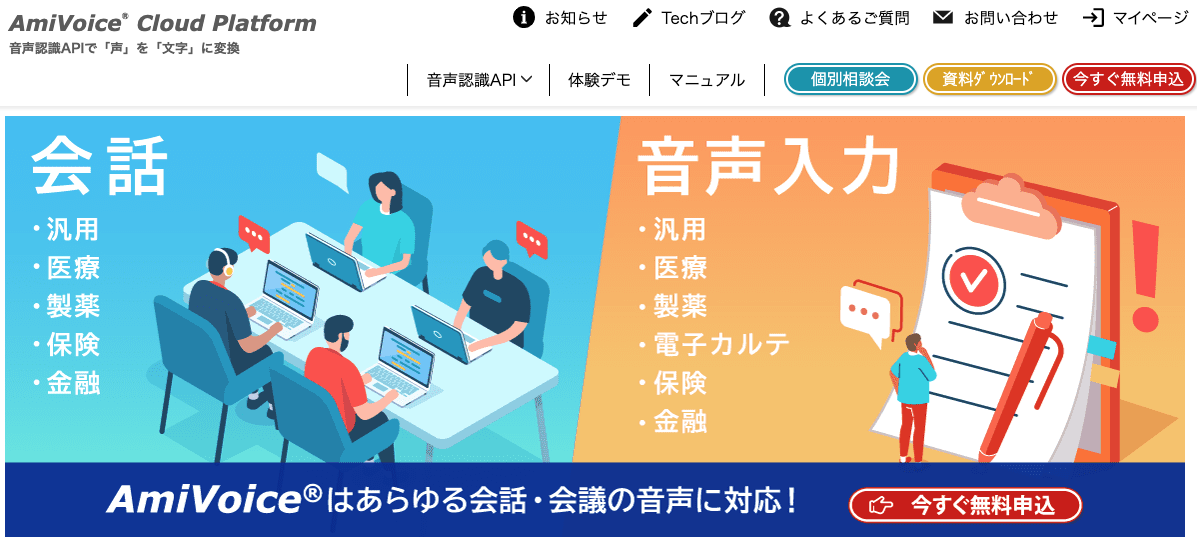 Here is the online version of the transcription software "AmiVoice", which used to be a major transcription software along with "Dragon Speech".
A major feature is the high speech recognition rate due to the know-how accumulated over 20 years and the implementation of the latest deep learning technology.
According to the usage scene, 13 types of speech recognition engines can be used, such as general-purpose conversations for business and specialized fields and industries.
*Because it is provided as an API, it is necessary to program it in a tool developed by yourself or pass it through another application with API implementation to use it.
Supported formats: Real-time/Audio file import
What you can do for free: 60 minutes/month (general-purpose conversation, English, Chinese)
Mr. Transcription (Web)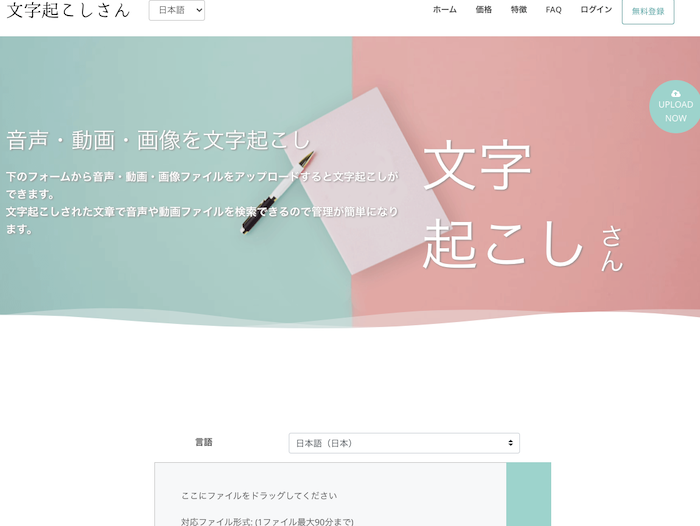 Here is an online AI transcription tool that AmiVoice can easily use.
Since it is a web application that can be used from a browser, it can be used regardless of devices such as personal computers (Windows / Mac) and smartphones (iPhone / Android).
It is also a point that you can further improve accuracy by specifying specialized fields such as medical and IT in addition to general conversations.
In addition to the above-mentioned AmiVoice, Google has also adopted the speech recognition engine , so you can freely choose according to your purpose and content.
Supported format: Audio file import
What you can do for free: 10 minutes/day (up to 1 minute per audio file)
[By purpose] How to choose a voice transcription tool [5 patterns]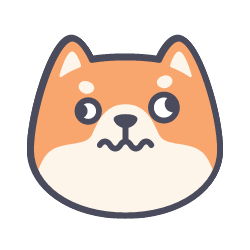 I'm glad I narrowed it down to 10, but I'm still not sure how to choose the right tool for my purpose...
For you, we will introduce the transcription tool that is perfect for each of the common usage scenes of voice transcription.
meeting minutes
If you also participate in the meeting, the "User Local Audio Minutes System" is the best choice.
"Voice Rep Pro" and "Mr. Transcription" are recommended for transcribing audio data from meetings.
If you don't have the time to transcribe by hand, it might be a good idea to use an outsourced service such as Coelabo.
How much does it cost to outsource voice transcription? [Explanation of tips to request cheaply] | Mr. Transcription
interview
"Texter" and "Notta" are convenient if you want to record and transcribe in real time while using your smartphone as a voice recorder.
If you want to prepare a dedicated IC recorder separately, "AutoMemo", which comes with a transcription service, is perfect.
As with the minutes, if you are given only voice data, try using "Voice Rep Pro" or "Mr. Transcription".
voice memo
"Texter" and "Edivoice" are recommended if you want to easily take voice memos on the go.
Texter is also compatible with Apple Watch, so you can record voice memos even when your smartphone is in your pocket or bag.
If you want to sit down in front of your computer and input long sentences by voice, "Voice Rep Pro", which has a built-in editor with proofreading tools, may be useful.
english voice
The best choice would be Otter , which specializes in English phonetic transcription.
Of course, tools such as "Notta" and "Mr. Transcription" claim to support English.
Notta supports many languages and has a built-in translation function, so it is recommended for those who want to use it as a language learning tool.
offline environment
Almost all recent transcription services, including the tools introduced this time, are designed to convert speech to text in the cloud, so they cannot be used in places without an internet connection.
* In human-powered transcription services, voice data is mainly exchanged via the Internet.
If you want to transcribe in an environment where you cannot connect to the Internet,
Offline environment: Recording, text correction, etc.
Online environment: Only automatic transcription is performed when connecting to the Internet
It is necessary to use properly.
Alternatively, you could grab an existing inventory of standalone software like Dragon's Speech or AmiVoice SP2, which are no longer sold.
summary
This time, I explained the recommended speech transcription tools and how to select and use them.
Finally, let me summarize the software services introduced in the article.
Each tool has its strengths and weaknesses, so choose the best software or service for what you want to do, and sometimes combine them through trial and error.
Many of them can be tried for free, so it's important to try them out first to get a feel for how easy they are to use.
■ AI transcription service "Mr. Transscription"
"Mr. Transcription" is an online transcription tool that can be used from zero initial cost and 1,000 yen per month (* free version available).
Supports more than 20 file formats such as audio, video, and images
Can be used from both PC and smartphone
Supports about 30 languages including Japanese, English, and Chinese
Supports technical terms such as medical care, IT, and long-term care
There is a customized dictionary function
To use it, just upload the audio file from the site. Transcription text is available in seconds to tens of minutes.
You can use it for free if you transcribe it for up to 10 minutes, so please try it once.

It is "Mr. Transcription" who can easily transcribe from audio, video, and images. Transcription allows you to transcribe for up to 10 minutes for free. You can copy, download, search, delete, etc. the transcribed text. You can also create subtitle files, which is ideal for transcription of interview videos.
|
Related article

Transcription for audio / video / image transcription. It is a transcription service that anyone can use for free without installation.